Multi-Rib Form Deck
Types STD, EHD and BI form decks can be used as a structural support for insulating roof fill systems or a permanent form for concrete floor and roof slabs. Each profile configuration has been designed to limit the required volume of fill, provide a high strength-to-weight ratio and reduce the erection time. Type EHD is available with continuous vent slots in the bottom of the flutes to improve the drying of insulating fills.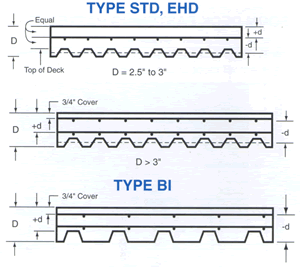 SLAB INFORMATION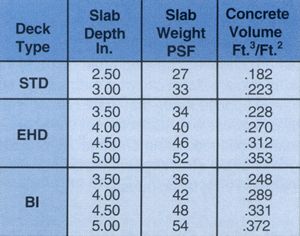 UNIFORM SUPERIMPOSED LOAD - LBS. PER SQ. FT.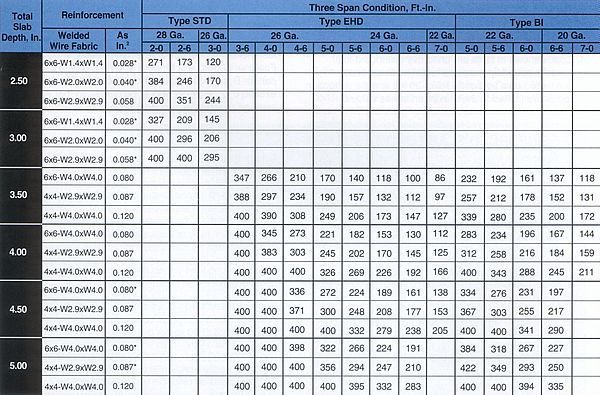 ---
The information presented in this catalog has been prepared in accordance with generally recognized engineering principles. We recommend that this information not be used or relied upon for any application without a thorough review by a licensed professional engineer, designer or architect of the proposed application. Roof Deck, Inc., makes no representation or warranty respecting any information contained in this catalog, including but not limited to the accuracy, completeness, or suitability of such information for any particular purpose or use. By making this information available, Roof Deck, Inc. is not rendering professional services, and assumes no duty or responsibility with respect to any person making use of such information. Any party using the information contained in this catalog assumes all liability arising from such use.
---
About RDI : Product Catalog : Specs : Order : Contact Us : Home
80 Twin Rivers Drive West · Hightstown, New Jersey 08520 · (609) 448-6666