Type "A" (NR) Roof Deck
Type A (narrow rib) deck is designed to allow the use of the most economical insulation materials. It provides a maximum top surface contact area which is suitable for thinner rigid boards and the nestable quality eliminates the need for die-set ends to reduce installation costs.
* Classified by Underwriters Laboratories Inc.

SECTION PROPERTIES (PER FT. OF WIDTH)

UNIFORM TOTAL (DEAD & LIVE) LOAD - LBS. PER SQ. FT.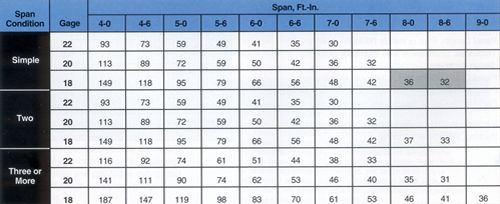 ---
The information presented in this catalog has been prepared in accordance with generally recognized engineering principles. We recommend that this information not be used or relied upon for any application without a thorough review by a licensed professional engineer, designer or architect of the proposed application. Roof Deck, Inc., makes no representation or warranty respecting any information contained in this catalog, including but not limited to the accuracy, completeness, or suitability of such information for any particular purpose or use. By making this information available, Roof Deck, Inc. is not rendering professional services, and assumes no duty or responsibility with respect to any person making use of such information. Any party using the information contained in this catalog assumes all liability arising from such use.
---
About RDI : Product Catalog : Specs : Order : Contact Us : Home
80 Twin Rivers Drive West · Hightstown, New Jersey 08520 · (609) 448-6666